Gift Services and Corporate Gifting
Gift Services
All orders shipped from The Virginia Marketplace may be accompanied by a hand written gift card. There is no charge for a gift card message. Gifts shipped directly from Smithfield or The Peanut Shop of Williamsburg may be accompanied by a gift message on a shipping label on the box. Please type in your gift message(s) in the Gift Message box on your product page.
Gift wrapping services are offered for items when available and may be customized for each item. Gift wrapping services are not available for items shipped directly from Smithfield or The Peanut Shop of Williamsburg.
Gift wrapping services for boxed items are $3.95 per item.
Gift boxing and wrapping services are $4.95 per item.

If none of the gift wrap options are appropriate, "Other" gift wrap may be chosen and the occasion specified in the gift message box on the product page.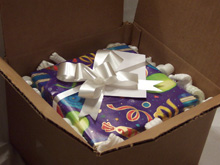 Corporate Gift Services
We at The Virginia Marketplace are always ready to fulfill our corporate customers' gift giving and event planning needs. Let us make it easy for you to show your appreciation to employees, clients, and business associates with a gift from The Virginia Marketplace. We have selected quality products from several producers of gourmet Virginia peanuts including holiday labels and gift sets. We also have the finest Smithfield hams, Virginia themed gift baskets and boxes and much more. We offer gift wrapping services on many items. We provide free personalized gift cards and/or we can include your business card or other correspondence. Items shipped directly from Smithfield or The Peanut Shop of Williamsburg can include a gift message on the packing slip. We understand that presentation, quality and great customer service are your top priorities. We take pride in offering the best service possible.

Call 800-985-3394 or locally, 434-978-7459, to discuss your order. Email thevamarketplace@aol.com with your orders and destinations to us. Include your personal gift messages for the enclosure cards. We will contact you with the total cost of your order with shipping and for your billing information and enter the order for you. We recommend calling in October or early November for the busy holiday season. Delivery can be scheduled for whenever you desire.

If you prefer, we will deliver orders over $50 of in stock items to your business in the Charlottesville area. There will be no added shipping or delivery charges. Call to arrange free delivery.
We provide the personal customer service designed for the busy professional!